Activities on Ha Long Bay
1. Overnight on Cruise:
There are many ways to enjoy the beauty of Halong Bay, however choosing to sleep overnight on a cruise can be considered the best way for you to tour around Ha Long Bay day and night.
Currently, the majority of overnight cruises on boat come from Hanoi. You can choose for yourself a 2 days 1 night or 3 days 2 night tour to explore Halong Bay.
Tour usually starts picking up guests in Hanoi Old Quarter in the early morning. So, you should book a hotel  in the old town to facilitate your car pick up in the morning. If you are outside the Old Quarter area, you have to move to the Hanoi Opera House by yourself to pick you up.
The road from Hanoi to Ha Long is 155km long and takes more than 3 hours. On the way, the bus will stop at the rest stops so you can relax and drink coffee and shop for some local specialties.
When you arrive at Tuan Chau port, you will check in and get off the cruise to begin an exciting journey.
On the boat you will be served main meals, afternoon tea sessions, and entertaining activities usually included in the tour program.
Depending on your needs and your budget, yacht resort tours are classified according to levels ranging from standard, 3-star, 4-star and 5-star.
You can go to the Ha Long bay Cruises directory of this website to see some information about yachts as well as program details.

2. Swimming and Sunbathing in Ha Long Bay:
Nothing can make you feel more refreshing than swimming in cool water and gazing at the beautiful islands in Halong Bay.
Guests of all ages can participate in this activity, you can swim at a variety of beaches on the bay, from famous beaches such as Halong beach, Titop, Soi Sim to small pristine beaches. Bathing is a great activity for the whole family or group of friends to join while enjoying a relaxing time on Halong Bay.


3. Kayaking on Ha Long Bay:
Kayaking is a must-see when visiting Ha Long Bay, the perfect way to explore hidden corners on the bay for the active traveler.
The rocky islands rise high and rise in the midst of the often calm, quiet waters of Ha Long Bay, making it an ideal place to experience kayaking.
Attractions such as the Vung Vieng fishing village, Sang Toi cave, and Viet Hai village are all accessible by kayak.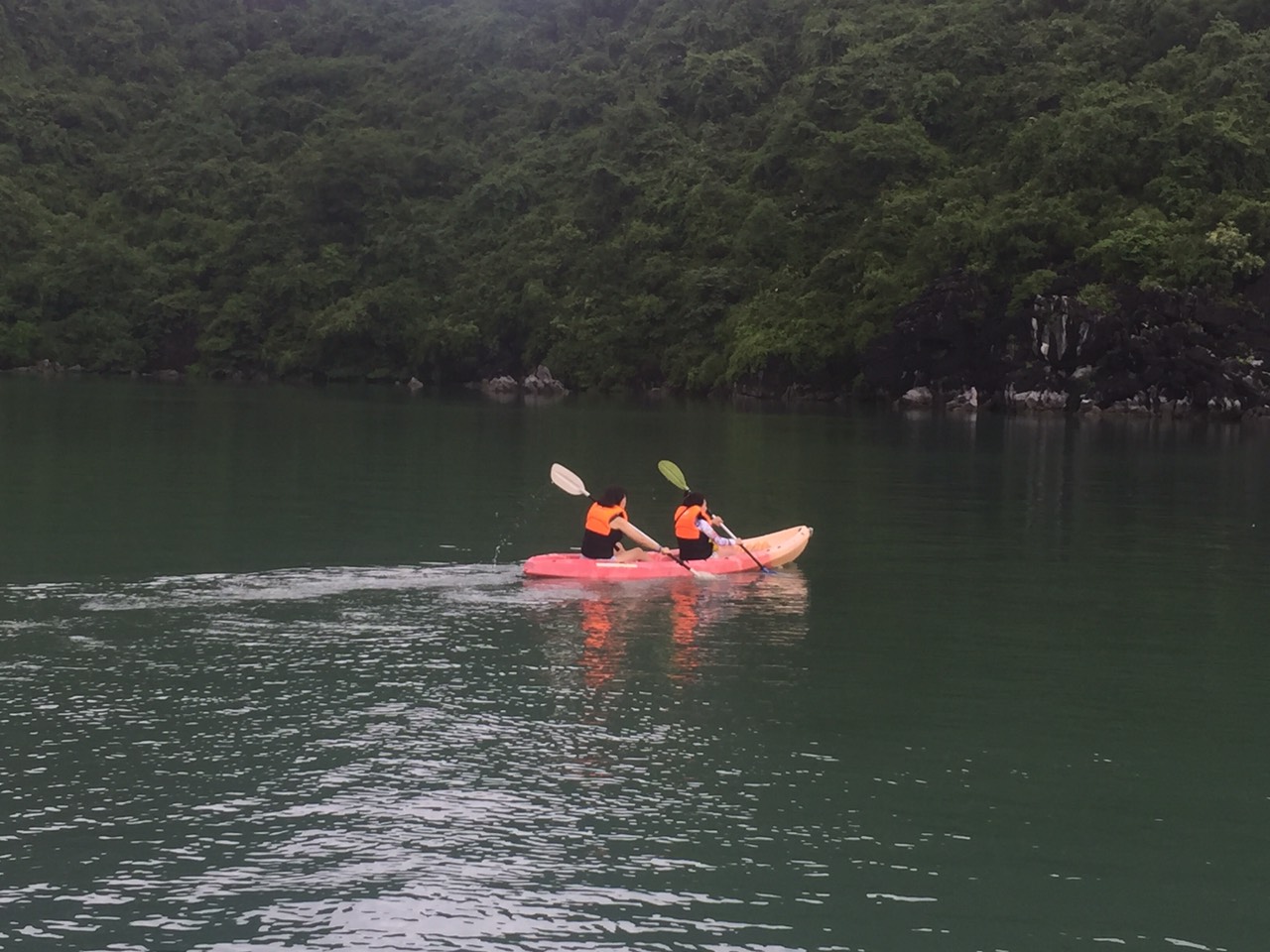 4. Cycling to explore Ha Long:
Some Halong cruise tours for 3 days 2 nights organize cycling activities for customers who want to explore Cat Ba island, visit the village This activity gives visitors a chance to experience a bit of adventure and exercise sport in its journey.
The bike ride is about an hour, departing from the marina to Viet Hai village on Cat Ba island. This small village is hidden in a valley surrounded by tall mountains and fields of vegetables. Guests will have the opportunity to meet the locals, and spend time enjoying the peace in this pristine valley.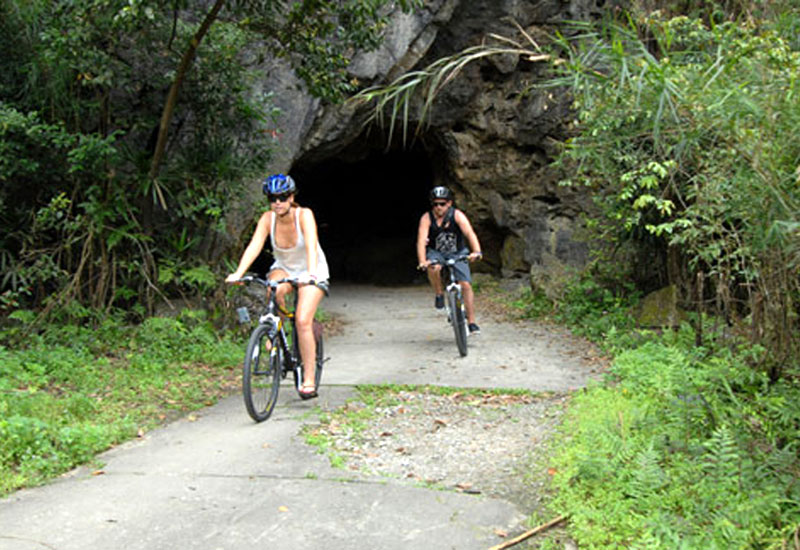 5. Visit the Fishing Village on Ha Long Bay:
Vung Vieng fishing village is the ideal place for tourists to observe local people living on the bay, learn about gentle and simple fishermen and living habits on floating houses.
Visit this fishing village on a traditional bamboo boat and meet and chat with the locals.


6. Cooking class on Halong cruise:
The cooking class on the Ha Long cruise ship is suitable for all ages, helping passengers to learn intuitively and more deeply about the importance of cuisine in Vietnamese culture, In the above overnight tours. Every yacht has a cooking class for visitors to explore.


7. Morning Tai Chi practice:
Early morning tai chi training on deck is the perfect way to start your day in Halong Bay. Most of the yachts on Ha Long Bay have tai chi exercises in the early morning as part of the package tour of the ships.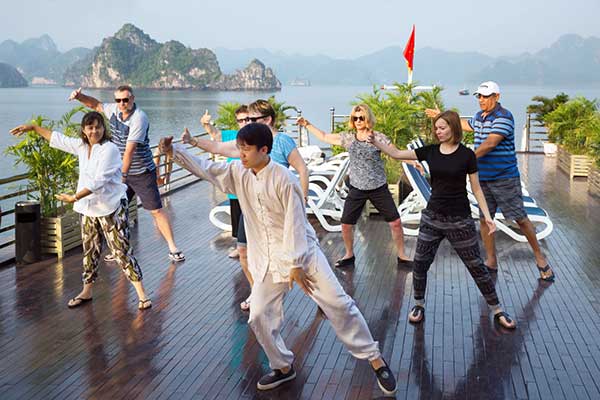 8. Night squid fishing on Ha Long cruise:
Squid fishing is a simple entertainment way on Ha Long cruise ship when night falls, even those who are lucky to smile will have an extra night meal with fresh and delicious squid. 
The crew of the cruise ship will install a water lighting system, you will be provided with a fishing rod and line and a net racket to start your luck with the sea at night on the bay. If in the right season of the year, when there are a lot of squid in Ha Long Bay, you will have a "bumper night" and full of laughter.

10 10 2020
This article will introduce the main tourist attractions in Ha Long Bay. For more detailed advice about the attractions, you can contact us through this website. We are very pleased to provide...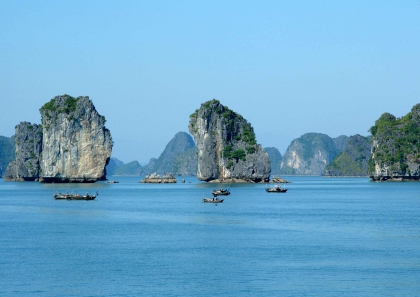 10 10 2020
Hạ Long Bay has an area of around 1,553 km2, including 1,960–2,000 islets, most of which are limestone. The core of the bay has an area of 334 km2  with a high density of 775 islets. The limestone in...