Guide to visit Lan Ha Bay with Yourtrip Vietnam
Travel to Lan Ha Bay with Yourtrip Vietnam - discover the hidden paradise on earth.
If Ha Long Bay is too famous, Lan Ha Bay is like a hidden paradise. Let's explore with Yourtrip Vietnam immediately "all" travel experiences in Lan Ha Bay, a beautiful paradise on earth but few people know through the following article.
1. The best time to travel to Lan Ha Bay
The weather and average temperature in Lan Ha Bay is quite pleasant, about 25-28 degrees Celsius because it is surrounded by the sea. Temperatures can also be colder in winter, only 15-20 degrees depending on the weather or the northeast monsoon.
But sometimes in the summer, the weather can be hotter than 30 degrees and there is a possibility of storms at the end of the season.
Therefore, the time when Lan Ha Bay is most beautiful is from April to July every year. At that time, the weather will be extremely pleasing to people so that you can comfortably participate in water activities such as boating, swimming or visiting the islands, ...
As for the end of summer, in August - October, you should limit coming here to avoid storms and bad weather interrupting your trip.
2. How to move to Lan Ha Bay
You can join a resort package tour on Lan Ha Bay cruise 2 days 1 night or 3 days 2 nights departing from Hanoi.
The advantage of the package tour is that you are picked up from Hanoi, you will not bother with food and accommodation because we are included in the price of the tour.
If you want to travel by yourself, you can take a bus from Hanoi to Hai Phong.
From the center of Hai Phong city, you move by cable car to Cat Ba island with the ticket price for adults is 200,000 VND / way, children are 150,000 VND / way.
Then, buy a boat ticket at Beo wharf in the center of Cat Ba to go to Lan Ha Bay with prices from only 80,000 VND/adult/time, 40,000 VND/child/time.
3. Cruise options in Lan Ha Bay:
To fully explore the beauty of Lan Ha Bay, Yourtrip Vietnam recommends choosing a cruise to relax on the bay.
Depends on your needs and financial capabilities. Currently, there are many 3- to 4-star cruise in Lan Ha bay for you to choose from.
One of the Cruise with good service we would like to recommend is
Sunlight Cruise.
This cruise is 3-star standard with 9 cabins, not large but fully equipped for you to have an interesting trip in Lan Ha Bay.
You can refer to 2 tours itineraries as below:
Lan Ha bay Cruise Sunlight Premium 2 Days 1 Night
the price only
146 USD/1 person.
Lan Ha bay Cruise Sunlight Premium 3 Days 2 Nights
the price only
250 USD/1 person.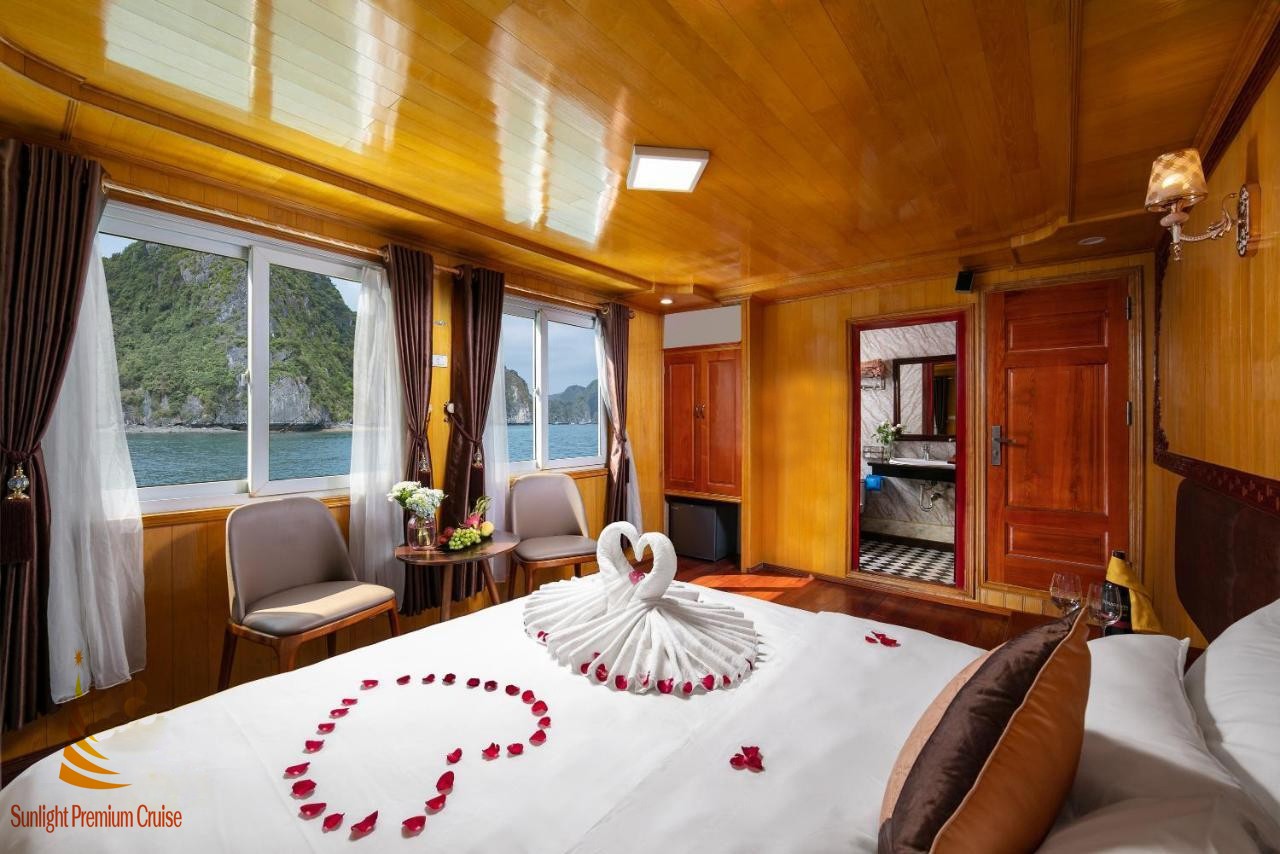 4. Famous tourist attractions
-
Cai Beo fishing village (Vung O fishing village):
Located right in the middle of Lan Ha Bay, Cai Beo fishing village will open up a colorful scene of floating houses, forming a village in the middle of the vast sea. Here, more than 300 households are living and doing fishing and fishing.
In particular, this 7000-year-old village was once honored in the top 16 most beautiful ancient villages in the world. This is one more reason why you should not miss this place when traveling to Lan Ha Bay.
How to get there: From Cat Ba island, you move to Ben Beo port to buy a train ticket to the village (about 12km from the wharf and take 1 and a half hours by train)
Opening hours: Always open
- Monkey Island: You can travel by sightseeing cruise to the famous island with 2 kilometer-long arc beaches.
The reason this place is called Monkey Island is because the rangers of Cat Ba National Park have released more than 20 monkeys for them to live in the wild.
How to get there: To get to the island, it only takes about 10 minutes by boat or motorboat from Ben Beo, passing by Cai Beo fishing village.
Opening hours: Always open.
- Van Boi beach: Belonging to an island located in the calm water area of Lan Ha Bay, Van Boi beach attracts with its blue water surface and charming golden sand. The prime location of the beach also makes this place a choice for visitors to experience kayaking.
How to get there: From Binh pier, you can buy tickets to get to Van Boi.
Opening hours: Always open.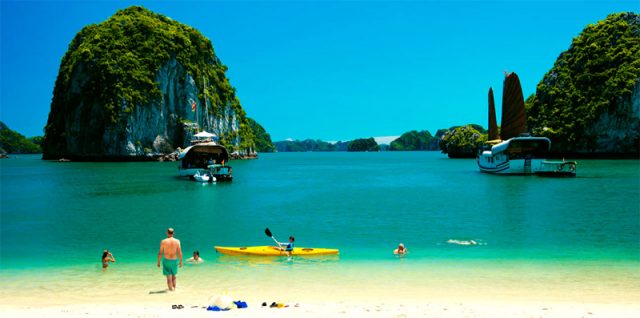 5. Attractive outdoor activities in Lan Ha Bay
Besides taking a cruise, admiring the beautiful natural wonders, one of the very favorite activities in Lan Ha Bay is water games and outdoor experiences.
- Snorkeling: Lan Ha has countless large and small beaches and diving service points.
You will easily choose a place to soak in the cool blue water, diving to see the coral bushes and sea creatures.
Reference location: Monkey Island Resort Diving Center (at Monkey Island)
Price from: 600,000 - 1,000,000 VND/person

- Kayaking: This is the most prominent activity for tourists in Lan Ha Bay.
You can just row a boat, admire the rich natural beauty and experience yourself to paddle through the small islands.
           + Manh Nu raft house: Ben Beo, Cat Ba town, City. Hai Phong
           + Cat Ba Venture: No. 223 1/4 Street, Cat Ba Town, TP. Hai Phong
           + Monkey Island (Cat Dua Island)
           + Price from: 50,000 - 100,000 VND/boat/person and no time limit.

- Climbing: If you are a thrill-seeker, you can experience climbing the cliffs and enjoy the view of the bay from above.
This service will have many levels from easy to difficult, suitable for many visitors, so don't worry too much.
Reference location: Three Peach Island, Dau Be Island, Ben Beo cliffs.
6. What delicious food to eat in Lan Ha Bay?
At Lan Ha Bay, you can easily enjoy fresh seafood dishes, prepared in a variety of ways at any floating market, fishing village or resort right on the island.
In particular, delicious dishes that you should not miss when traveling to the bay include:
Geoduck: With its characteristic crunchy and crunchy taste, Tu comei is often processed into many different dishes such as spiced baking, steaming, and porridge.
Mantis shrimp: Mantis shrimp is a specialty of this region, so most restaurants in Lan Ha Bay also serve this dish with many different ways of processing. You can choose roasted with salt, grilled, steamed or cooked with porridge, ... all delicious.