Ha Long bay attractions
1. Bai Tu Long Bay
Bai Tu Long Bay includes a marine area of ​​Ha Long City, Cam Pha City and Van Don Island District. The southwest borders on Ha Long Bay, the East borders the sea, the West borders the mainland with Cam Pha city and the northeast borders Co To island district. Bai Tu Long Bay consists of hundreds of islands, large and small, many of which are large and inhabited.
This is one of the attractive destinations because of the diverse marine ecosystem including many caves, beaches combined with rich flora and fauna. Therefore, Gecko Travel (UK) has voted Bai Tu Long Bay of Vietnam in the top 5 best tourist destinations in Southeast Asia  in 2006.


2. Soi Sim Island
Local people said that because there are many Sim trees on the island so the island is called Soi Sim. The island has an area of ​​about 8.7 ha, located in the west of Ha Long Bay. On the island is a primeval forest with a variety of plants, including many endemic and valuable species, characteristic of the ecosystem of Ha Long Bay.


3. Ti Top Island
Ti Top Island is located in a prime location in the middle of the bay, has a steep, sloping shore with a white, flat sand. Ti Top Mountain has about 400 steps leading from the beach to the top viewing platform. Cruise ships often stop to bring tourists here to admire the beauty of Ha Long Bay from different heights. In addition, Ti Top Island also owns a beautiful beach, called Ti Top beach. The sand in the beach is continuously washed by the tide up and down, pure white, the sea water is clear and blue for four seasons. Although the area of ​​the beach is not large, it is quiet and airy and clean.


4. Dragon Eye Island (Bai Dong Island)
Located in the south of Ha Long Bay, Bai Dong is an island area bordering Bai Tu Long. This island possesses natural white sand beaches, and especially has a unique landscape of the beautiful circle in the middle of the mountain. The island has a private, quiet space that is suitable for families who want a personal getaway after a hard time of work.


5. Sung Sot Cave
Located in the central area of ​​Ha Long Bay, this is considered one of the "legendary" tourist destinations. Inside Sung Sot cave are fossil stalactites with extremely rich shapes. The deepest part of the cave is called the "royal garden", where you can find a clear lake with extremely rich flora and fauna. The cave is named "Grotte des surprises" (cave of shock).


6. Dau Go Cave
Recorded nearly 2 million years old with a width of 12m and the entrance is about 17m high, this cave is said to be the largest limestone cave in Ha Long. Dau Go is a large, beautiful cave with ancient mossy features, called "Cave of wonders" by the French. As soon as you step into the cave, visitors can immediately see the amazing beauty of the colorful stalactites reflected in the sunlight. Along with the diverse flora of moss, ferns, trees ... This is a difference compared to many other caves on Ha Long Bay.


7. Luon Cave
Luon Cave is located on Bo Hon Island, 14km from Bai Chay. Coming here, visitors will admire the stalactites created over millions of years with different shapes and sizes, creating a very unique beauty for Luon cave.


8. Trong cave and Trinh Nu Cave
The reason for having two names is Trong cave and Trinh Nu cave because of the legend told by local people. A cave with a horizontal rock looks like a girl stretching out her hair, reaching out to the sea, so it is called the Virgin's Cave. And the other cave has a very high stalactite column that looks like a giant boy looking out to the sea, the fishermen here say that on rainy days with strong winds, passing here hear the wind hitting the cliff. like drum sound and they call this cave Trong cave.
These two caves are located on two wings of a small mountain arc east of Bo Hon island range, more than 3km from Sung Sot cave by sea to the southeast. 700-800m apart through a small pool of sea, the mouth of the cave is facing different directions. Standing from one cave while shouting, in the other cave you can hear.


9. Thien Canh Son Cave
It is a rather unspoiled cave located on Bai Tu Long Bay and Ha Long Bay in the Cong Do conservation area. This is an interesting attraction for visitors thanks to its natural beauty, pristine limestone stalactites and surrounding landscapes.
10. Thien Cung Cave
Thien Cung Cave is located in the north of Dau Go island, 4km south of the cruise ship port. The cave entrance is at an altitude of 25m. The nearly 10,000m² cave has a very complex structure, consisting of many levels, many compartments with very high and wide ceilings and walls. Visitors to the cave will be overwhelmed by the countless blocks of stalactites and stalagmites with strange shapes. So this is one of the most beautiful caves in Ha Long.


11. Kim Quy Cave
Kim Quy cave is located on Dam Nam island with 187m high peak. The front is Dam Bac island, the back is Soi Sim island. The cave is 100m long, 5 - 10m wide, running in the North-South direction. 

Exploring 
Ha Long Bay Cruise Sunlight Legend 2 Days 1 Night
with us.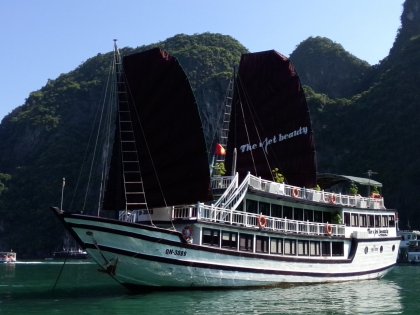 13 10 2020
Halong Bay is a paradise for photographers as each of its rock formations is unique to itself. Tour companies always offer tourists plenty of choices of where to stop and each stop is a guaranteed...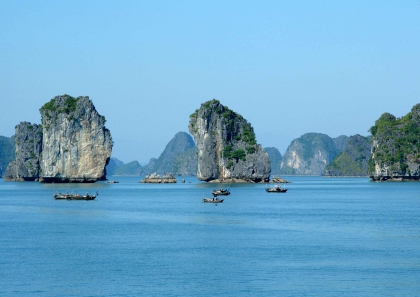 10 10 2020
Hạ Long Bay has an area of around 1,553 km2, including 1,960–2,000 islets, most of which are limestone. The core of the bay has an area of 334 km2  with a high density of 775 islets. The limestone in...