Interesting things to do when coming to Hoi An.
Interesting things to do when coming to Hoi An.
Hoi An is an ancient trading port located in Central Vietnam.
It is flourished in the early 16th century undergoing many upheavals.
Nowaday, Hoi An still preserves the cultural and historical values bearing the East Asian tradition.
Visitors come to Hoi An as if they want to return to ancient times, want to find a peaceful land with a peaceful life.
Therefore, when coming to Hoi An, you should try once to experience the following activities:
1. Admire sunset on the romantic Hoai River:
Hoai River is a gentle river flowing through the old town, a precious gift that nature gives to Hoi An. It is not only brings cool steam to the town but also creates a unique landscape on the boat dock and impressive flower festivals. The scenery is even more beautiful when the sun sets. You can take a variety of photos that are both classic and romantic.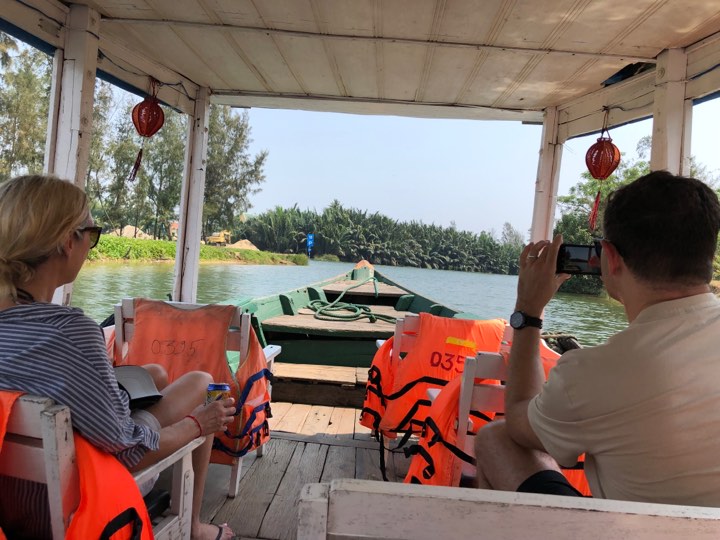 2. Enjoy the dishes at Hoi An market:
Hoi An in addition to ancient beauty, peace and romance. Hoi An is also famous for many delicious and rich traditional dishes.
You should try once to visit Hoi An market. Here, you can find many shops selling traditional Hoi An dishes. It can be said that the whole Hoi An culinary culture is miniature in the stalls at Hoi An market.
Visitors can both enjoy the food and chat with the locals selling here.
The special thing is that the price is extremely cheap and reasonable.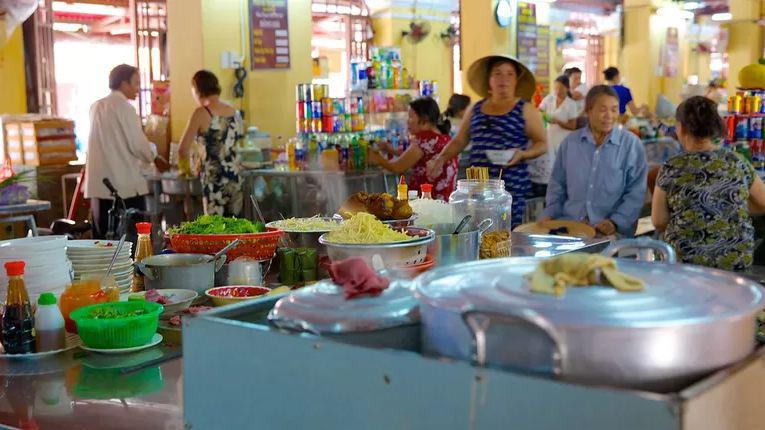 Source: https://eva.vn/
 
3. Explore the villages by bike in Hoi An:
Explore the villages of Hoi An by bike. Coming to the village roads full of flowers and rice fields on either side. You will enjoy the fresh air and fresh air with beautiful scenes of the rich countryside. Along the narrow village roads, the two sides are rice fields. You will visit villages along Hoi An.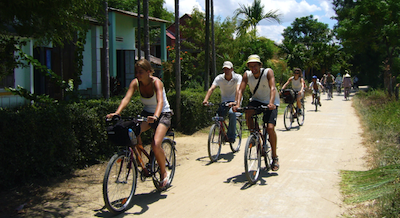 4. Cycling to explore An Bang beach:
An Bang beach is located only 4km east of Hoi An ancient town, so it is very convenient for visitors to cycle to the beach.
An Bang is a wide beach with fine white sand and romantic blue water.
Here, visitors can sunbathe all day, swim, enjoy fresh seafood dishes caught by local fishermen.


5. Enjoy Hoi An bread (Banh Mi Hoi An)
It is only costs 1 USD to enjoy the delicious bread made from the special ingredients of Hoi An people.
The famous delicious bakery you can visit and enjoy such as:
- Madam Khanh bread - The First bread In Hoi An: It was a bakery on Tran Cao Van street owned by Mrs. Nguyen Thi Loc (81 years old) famous in Hoi An. It is the most regrettable thing in your trip if you come to Hoi An without stopping to enjoy the bread because this is one of the delicious "famous" restaurants in  Hoi An.
- Bich bread (Banh Mi Bich): Many visitors coming to enjoy Bich bread are not only satisfied with the delicious taste from the bread but also the service attitude of the staff. Bich bread staff pays great attention to service. It is always trying to make bread to keep a certain temperature and quickly deliver it to customers.
- Mrs. Phuong Hoi An's Bread: Mrs. Phuong Hoi An's bread is famous for a special sauce with the blending ingredients between Western and oriental culinary culture . Whether you are a tourist or a local people are ecstatic with the taste of Mrs. Phuong's bread. 

Source: Banh Mi Phuong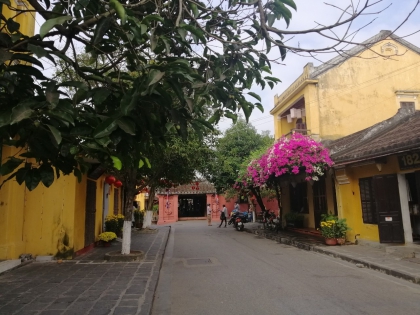 09 10 2020
Visiting Hoi An on a sunny summer afternoon, I wondered how, after many years, how does Hoi An remain so quite? Due to the temporary neglect of this old town or time itself, it is impossible to...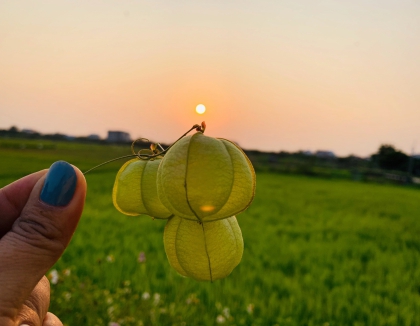 15 04 2020
Having the opportunity to come to Hoi An, you will feel more clearly the tranquility, solitude of red-tiled houses, moss-covered walls of nostalgia of an old town on the Thu Bon river.